Cell-AED defibrillator Comparison
At DDI Safety, we are all for making defibrillators easy. A number of customers have asked us about new CELL-AED defibrillators.

What is a Cell-AED defibrillator? It is a new type of Defibrillator targeting the home market, that is designed to have a low cost of entry. Should you buy one? In this article we will compare the Cell-AED defibrillator to other models on the market.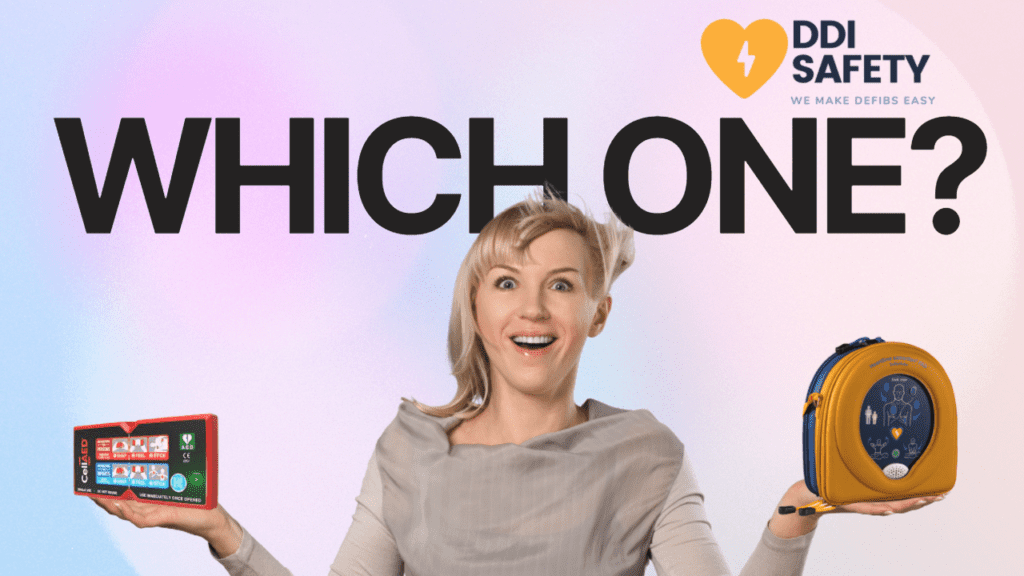 Is CELL-AED the best value Defibrillator?
What is the best value Defibrillator? The CELL-AED has a low upfront cost of $329. But is it the best value? The Cell-AED has a 13 month lifespan. Because of this short lifespan it actually becomes more expensive than other defibrillators over an 8 year period.
For example a high quality Heartsine 350p/360p has an est. cost of $1700 over 8 years. Over that same time, you would have to spend $2632 on 8x Cell-AED's. Cell-AED also offer a subscription program that makes things cheaper, but over 8 years it still works out to be $39 more over that 8 year period, providing that Cell-AED does not increase subscription prices.
Replacing a Cell AED every 13 months would cost $3619 Depending on whether you choose Cell-AED's subscription model or not a CELL-AED you could spend $39 to $600 more for the Cell-AED. That increases to $550 to $1719 more over 12 years, and that's provided Cell-AED don't increase their subscription cost over that time.

What about cost of maintenance? Heartsine will replace your pads/batteries for free if used to treat a verified cardiac event. Cell-AED will also do the same, if you are subscribed to their CELL-AED for life program which is $15/pm
Price
Cell-AED
Cell-AED with Life Plus
Subscription
Heartsine 350p/360p
Initial Cost
$329
$299 +15 monthly
$1500
Est. Cost over 8 Years
$2632
$1739
$1700
Est. Cost over 12 Years
$3619
$2459
$1900
Maintenance Cost: Verified Cardiac Event
$329
Free
Free
Maintenance Cost: Non Cardiac Event
$329
$329
$200
What Defibrillator will last the longest?
When purchasing a Defibrillator it is important to consider if your investment will last. Heartsine and Lifepak offer an 8 year warranty on all their defibrillators. The pad's and batteries in Heartsine and Lifepak Defibrillators have a 4 year shelf life.

Cell-AED Defibrillators have a 13 month lifespan. Each 13 months the defibrillator will need to be replaced. However with their subscription model: $15 pm/ $180 a year you can have a free replacement, however as we saw before this can be more expensive than other defibrillators over 8 years.
Model
Cell-AED
Heartsine 350/360/500p
Lifepak CR2
& Essential
Warranty
13 months
8 Years
8 Years
Pad/Battery Shelf life
13 months
4 Years
4 Years
Does CELL-AED get the best results?
Model
Cell-AED
Heartsine
350/360p/500p
Lifepak CR2
Maximum Joules
85
200j
360J
Shock Charging Time
<25 seconds
8-12 Seconds
7-13 seconds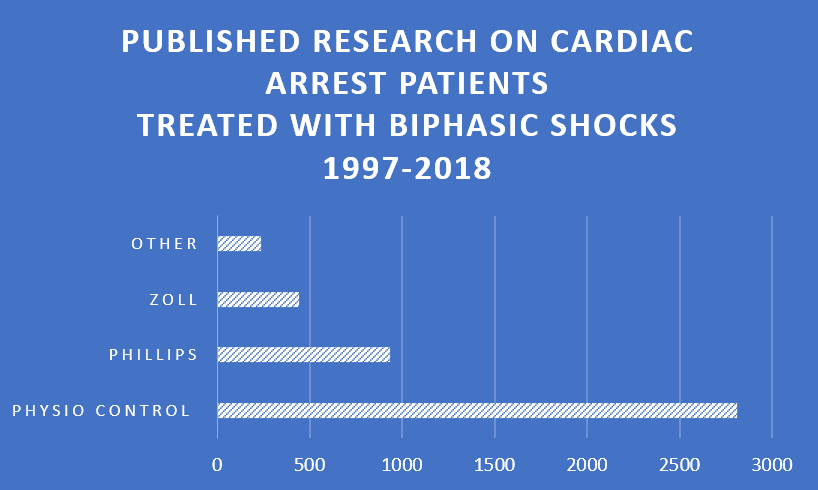 Price, Warranty and ease of maintenance are important facts to consider when purchasing a defibrillator. Often overlooked though, is which defibrillator gets the best results. After all, you want to use it to save lives. There can be quite a difference between models and brands. What factors determine the results a defibrillator gets?
One key element is the energy the defibrillator outputs. Defibrillator energy is measured in joules. More people survive when a higher energy defibrillator is used. A 360j biphasic output can mean 12% higher chance of survival. Lifepak CR2 defibrillators are our highest outputting defibrillator. They can deliver up to 360 joules of energy, more than 4x greater the 85 joules of the Cell-AED.

Another element is the charging time between each shock. In an emergency, the sooner a patient receives a shock can affect their outcomes. The included chart shows just how quick Physio-control models are. Heartsine's 350/360/500p models charge on average between 8-12 seconds, and Lifepak CR2 charge in 7-13 seconds. These speeds are less than half of some other defibrillators.

The way a defibrillator applies its energy can also make a considerable difference to survival. How do defibrillator manafacturers know what works best? Lifepak and Heartsine manafacturer Physio-Control invest heavily in research. From 1997 to 2018, more than 2,808 Physio-Control defibrillations were considered in published research. This research has led to improvements in technology that's hard for newer brands to match.
Wrap up
We hope this article has helped you to understand more about the CELL-AED. It is making the cost of entry to defibrillators lower than ever. But we've also seen that defibrillators like the Heartsine 350p/360p are cheaper in the long run, that they output more energy and have better researched design.

If you would like to know more about which defibrillator is right for you, our online selector tool can make things easy. Click here and answer a few simple questions to find the right defibrillator for you.